Dances of Southern Africa
primary_youtube_id: W1jlABrFQMM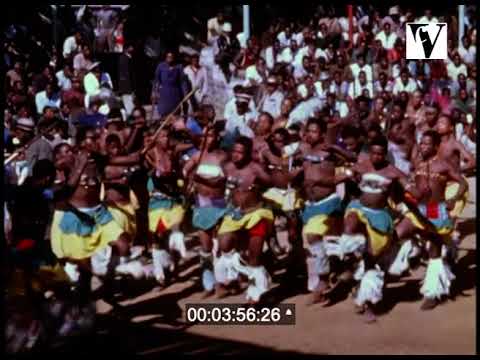 1966
0:51:04
South Africa,
Zimbabwe,
Malawi
Compilation of traditonal dances from South Africa, Malawi, Rhodesia (now Zimbabwe) with commentary by musicologist, Andrew Tracey.
Physical formats available:
Digital formats available:
Stamping, shaking and tumbling: these are some of the styles of Southern African dancing that were showcased at mine dances.  For recreation, migrant mine workers from various indigenous tribes would perform dances from their home villages in traditional dress.  Soon this practice evolved into an important venue that was open to the public.
The film features dances of the Zulu, Karanga, Ndau, Xhosa, Valley Tonga, and Barotse, among others, both in the mine dance arenas and in their villages.
Producer and Director:
Gei Zantzinger
Production Company:
Constant Spring Productions
Photography:
Gei Zantzinger
Collection
Constant Spring Productions
(18)
Ethnomusicologist Gei Zantzinger was an independent filmmaker and student of folklore who began making films in Africa in 1966, collaborating with musicians and other notable ethnomusicologists and filmmakers. His career in the social sciences spanned nearly 50 years. Gei's efforts resulted in a broad collection of 17 extraordinary films made between 1966 and 1997 that examine the roles that oral traditions, music and dance play in preserving and informing personal, cultural and spiritual identity in disparate communities around the world.