The Chopi Series: A Spirit Here Today - A Scrapbook of Chopi Village Music
primary_youtube_id: oF2S_skKY88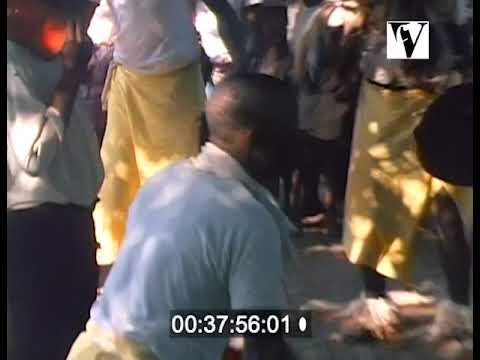 1994/2021
0:43:28
This lively and haunting film is a bittersweet memoir of Chopi life before civil war and drought took their devastating toll.
Physical formats available:
Digital formats available:
MPEG-4 AVC,
Quicktime (Pro Res)
For the Chopi, music is an integral part of every stage of one's life. This film explores the Chopi's interwoven matrix of music and personal development, from youth into adulthood, where one graduates from "smaller musics" to the ultimate Chopi expression: the timbila xylophone orchestra.
The footage for this film was shot by Gei Zantzinger in July 1973, during a lull in the production of the two 1973 Mgodo films, with the intention to document the full range of Chopi village musics.  The footage was then stored in freezer vaults at the Smithsonian Institution for over 20 years before being resurrected for this film.  In the meantime, Chopi tradition was almost entirely destroyed by war and drought. Additional footage was added of scenes of what is left of Chopi life 20 years later.
Producer and Director:
Gei Zantzinger
Associate Producers:
Vanancio Mbande, Andrew Tracey
Collection
Constant Spring Productions
(18)
Ethnomusicologist Gei Zantzinger was an independent filmmaker and student of folklore who began making films in Africa in 1966, collaborating with musicians and other notable ethnomusicologists and filmmakers. His career in the social sciences spanned nearly 50 years. Gei's efforts resulted in a broad collection of 17 extraordinary films made between 1966 and 1997 that examine the roles that oral traditions, music and dance play in preserving and informing personal, cultural and spiritual identity in disparate communities around the world.