Peterkin - Home Movies, American GI's, Chinese Troops
primary_youtube_id: QuCzH29C13o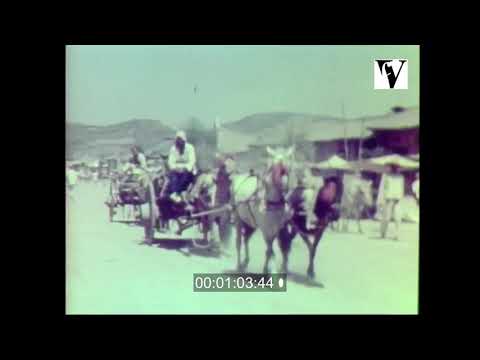 1940s
0:09:40
A look at American Serviceman stationed in China during WWII and training Chinese soldiers. (includes footage of Dr. Mau). Shot by Wilbur J. Peterkin while stationed in China during World War II.
Digital formats available:
October 5, 1944 - Occasion of Legion Merit for Colonel Barrett - Chu Teh, Mao Tse Tung, Ludden, Barrett, and members of Mission - General Bergin- who presented Legion of Merit - Gunther Stein - Brooks Atkinson in door of plane - Yeh Chien Ying, Madam Chu Teh.
February 5, 1945 - Colonel Morris DePass.
February 11, 1945 - Chinese New Year and band with gifts for mission.
April 18-20, 1945 - Trip to Yenchang oil fields; Peterkin, Lt. Col Dexheimer and Colonel Andrus and Mr. Yellachic - Oil wells pumped by man-power- Road cave in. 25 fords in about 69 miles.
May 1945 - Lt. Happe (knit cap) and Sgt. White going to Varoff Field. Chinese weather observers and radio operators to be flown behind Japanese lines. Tai Hang. Yenan Water system.
June 1945 - Orderlies planting vegetables after drought. Hsiao Ping photographer - Mr. Wu head of photography
March 23, 1945 - Chungking. Threshing rice.
March 25, 1945 - Convoy Chunking-Yenan, 4 3/4 tons with 1 ton trailers and one jeep with trailer. Personnel Peterkin, Captain Pomeranze, MC, Catain William Glei, Captain Eaton, Lt. Proccino, Lt. Hauck, Sergeant Sevia Thorne OSS, Sgt. Richards, Corporal Peel, Lt. Happe. Lt. Hauck and Lt. Proccanino Captain Pomeranze with dark glasses. Sgt. Thorne with dark glasses. Lt. Happe eating apple. Captain Glei no shirt eating apple.
April 2, 1945 - City of Paochi - camped on airfield Kuo Min Tang soldier - Kuo Min Tang soldier - Peterkin and camel – Yenan.
June 27, 1945 - B25 Lt. Happe and Sgt. White return from Varoff Field.
July 4, 1945 - Signal flare caught on telephone wire across river - Civilian William Taylor captured on Wake Island escaped from Japanese in North China and rescued by guerrillas.
July 5, 1945 - Political meeting with KMT, KCT, and other political parties - Yeh Chien Ying, Chun Yi, Mao Tse Tung, Madam Chou En Lai, etc. Peterkin and laborers at Yenan airfield - Lt. Klein with young art student from Yu Lin Art Academy.
September 3, 1945 - Victory parade in Chungking - Victory Arch Chungking.
September 13, 1945 - Approach to Hause # 15, Peterkin's billet View from window of House.
Camera:
Wilbur J. Peterkin