Cuba, Cult And Culture
License me
primary_youtube_id: PgFVVc87WHY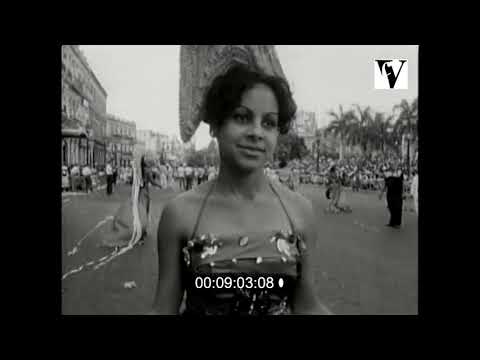 1964
0:30:48
Documentary about revolutionary culture in 1964, and the personality cult of Fidel Castro.
00:10
Views of Havana bay, the Christ of Havana and Castro.
00:48
Grand building interiors by the sea, now empty.
01:51
Socialist propaganda on adorned on the sides of buildings.
02:00
Socialist ideology exhibition.
03:04
Street views, locals in bars and workers.
04:21
Cuban artist René Portocarrero at work in his studio with shots of various examples of his work.
06:36
Street views and other exterior shots.
08:50
Carnival scenes outside of El Capitolio.
09:51
Military procession.
11:38
Cuts to a swashbuckling period theatrical performance.
12:37
Cultural and political propaganda billboards.
13:26
Street scenes cut with political propaganda and music to reflect the mood of each scene.
14:51
Interior political bureau shot.
15:38
Nationalist parade and carnival procession.
18:09
Dance rehearsal in a theatre environment.
21:28
Dramatic stage play with avant-garde imagery, costumes, dance and props.
26:35
Outdoor scenes of political procession.
28:03
Image of a shrine to two NRM members.
28:27
Various monuments in Havana.
28:47
Castro addresses a crowd, camera cuts to satirical imagery of Castro fishing, diving, playing baseball and ping-pong.
30:14
Huge image of Castro being supported at a nationalist rally, approaching camera.
[End]
End of shotlist
Collection
Collection of Peter Davis Stills, Films, and related items in the archive.