Cuba, Cult And Culture
License me
primary_youtube_id: PgFVVc87WHY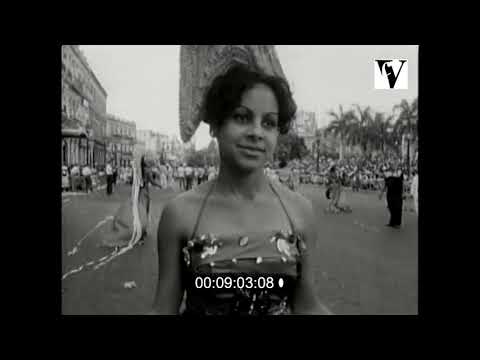 1964
0:30:48
Cuba, Cult & Culture gives an impressionistic overview of Cuban culture from art to ballet to film, to popular expressions like carnival and street painting, juxtaposed with the personality cult of Fidel Castro, whose image is omnipresent.
Physical formats available:
Digital formats available:
In the years immediately following the success of the Revolution in 1959, there was a burst of creative energy in Cuba's artistic community.  This took place under the dictum "Within the Revolution, everything; outside the Revolution, nothing."
00:10
Views of Havana bay, the Christ of Havana and Castro.
00:48
Grand building interiors by the sea, now empty.
01:51
Socialist propaganda on adorned on the sides of buildings.
02:00
Socialist ideology exhibition.
03:04
Street views, locals in bars and workers.
04:21
Cuban artist René Portocarrero at work in his studio with shots of various examples of his work.
06:36
Street views and other exterior shots.
08:50
Carnival scenes outside of El Capitolio.
09:51
Military procession.
11:38
Cuts to a swashbuckling period theatrical performance.
12:37
Cultural and political propaganda billboards.
13:26
Street scenes cut with political propaganda and music to reflect the mood of each scene.
14:51
Interior political bureau shot.
15:38
Nationalist parade and carnival procession.
18:09
Dance rehearsal in a theatre environment.
21:28
Dramatic stage play with avant-garde imagery, costumes, dance and props.
26:35
Outdoor scenes of political procession.
28:03
Image of a shrine to two NRM members.
28:27
Various monuments in Havana.
28:47
Castro addresses a crowd, camera cuts to satirical imagery of Castro fishing, diving, playing baseball and ping-pong.
30:14
Huge image of Castro being supported at a nationalist rally, approaching camera.
[End]
End of shotlist
Collection
Collection of Peter Davis Stills, Films, and related items in the archive.