Mission To Yenan
primary_youtube_id: z3k0MszNx_I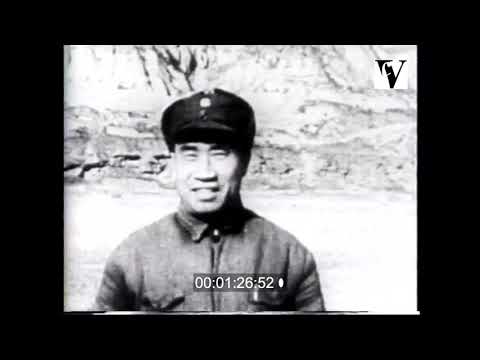 1944
0:32:46
Story of the wartime mission to the Chinese Communists in their headquarters, made in 1944 by Office of Strategic Service (OSS), but suppressed and never shown.
Digital formats available:
The film was made about the mission - which was edited by John Ford- was supressed, and never shown publicly. It was covertly released only in 1972, just prior to President Nixon's breakthrough visit to China.
00:08
Title card with introduction.
00:38
B-roll of plane flying at low altitude then coming in to land and taxiing on runway.
01:03
B-roll of US army officials leaving plane and meeting with Chinese military and administrative officials. With narration.
02:24
Map detailing Chinese provinces ZI to location of Yenan.
02:52
B-roll of landscape and and Chinese Communist and army headquarters building. US army officials meeting top-ranking Chinese officials. CU portrait footage of Mao Zedong, Zhu De, Zhou Enlai, Ye Jianying, Chen Yi, Nie Rongzhen, Liu Shaoqi, Kang Sheng and Peng Dehuai.
04:31
B-roll of landscape and US army officials saluting Chinese army. EXT view of auditorium, meeting place of the People's Political Council. Crowds, People's Political Council members. With narration.
05:27
B-roll of welcoming ceremony for US army officials. With narration.
06:46
B-roll of landscape and Chinese Militia (Mínbīng) on manoeuvres. With narration.
07:36
B-roll CU shots of army showing Militia how to make "homemade" landmines. With narration. B-roll of mines being detonated. CU shots of Militia seated and lying down with rifles.
08:42
B-roll of Chinese hosts entertaining US army officials with dance performed by locals with references to society and war. With narration.
11:58
B-roll of Chinese vegetable farm, uniform factory and schoolchildren.
12:58
B-roll of army training with narration.
14:23
B-roll of graduation of trained Chinese soldiers.
15:00
B-roll of US army officials firing Chinese army rifles and machine guns. Inspecting munitions and other equipment. With narration.
16:14
B-roll of landscape and soldiers on a reconnaissance demonstration with US army officials. With narration.
17:11
B-roll of Chinese army experimenting with US army explosives. Portrait footage of Lieutenant J. P. Baglio and Ma Haide (b. Shafick George Hatem).
17:57
B-roll of US army officials' communications room and gate at Kangzhan Rhbao (Chinese newspaper) building and interior editorial room.
18:44
B-roll of General Patrick J. Hurley with other officials, informal scenes. Formal shots of Hurley with Mao Zedong and Chinese officials and Hurley, with Mao Zedong, walking together and shaking hands. Footage of Hurley with Zhou Enlai together shaking hands before embarking on a plane with farewell salute. With narration.
20:20
B-roll of US soldiers riding donkeys towards the warfront. Landscape shots of the "1200 mile" journey and crossing a 19 span bridge.
20:57
B-roll of landscape and the undemolished city of Suide.
21:47
B-roll of 120th division with horses crossing the Yalu river. Footage soldiers and fortifications along the river banks. The rubble of a destroyed village from Japanese attack.
23:27
B-roll of Chinese army commander from 120th division surveying landscape and planning an attack on a Japanese blockhouse. Small model of target. Soldiers taking up arms and manoeuvring over landscape.
25:20
B-Roll of siege and occupation of blockhouse. Soldiers celebrate victory on the turret summit. Footage of blockhouse being burned down and soldiers demolishing the construction.
27:08
B-roll of crowds of inhabitants celebrating their liberated town from the Japanese. Footage of munitions stacked on the ground and against buildings. Soldiers inspecting. Narrator talks about the Japanese soldiers that have been captured and the benevolence of the captors towards the captives. Footage of captured Japanese soldiers.
28:47
B-roll of Japanese captives performing a theatrical play.
29:17
B-roll of US officials in hospitality suite, before leaving China.
30:04
Footage of officials grouped in portrait. B-roll. Shaking hands on the airstrip.
[End]
End of shotlist