Royal Hospital
License me
primary_youtube_id: uwYS26tATnU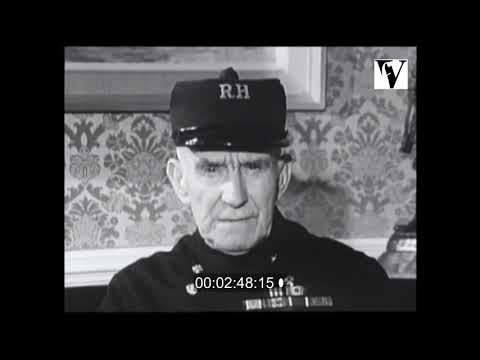 1965
0:22:51
Documentary shot inside Royal Hospital Chelsea, a London home for pensioned and veteran soldiers. A frank look at life in the home with interviews amongst residents and the buildings where they live.
Production:
Sveriges Television (SVT)
00:10
Opening shot of a war memorial accompanied by 'When This Ruddy War is Over' by Ewan McColl.
01:19
Quick fade to title sequence and a man crossing the road to Royal Hospital Chelsea.
00:51
Veteren soldier talks about being enlisted in the First World War and life at Royal Hospital Chelsea.
03:13
Outside Royal Hospital Chelsea.
03:48
Camera fades to tracking shot through the wards.
04:50
Camera fades to scene with a veteran talking about photos and war memorabilia hung on his room wall.
07:05
Camera cuts to more interior shots, veterans with memorabilia and a veteran portrait painting.
08:32
A veteran talks about when he was enlisted and the alternative of not doing so "was to starve."
09:02
Exterior shots of a cemetery (presumably on site).
09:29
A verteran talks candidly about accepting his imminent death.
09:59
More interior shots.
10:44
More exterior shots.
11:04
Shots of veterans walking in the grounds of the home.
13:15
Veterans convene in a huge canteen/dining area cutting to images of memorial inscriptions and war flags on the walls.
16:04
A veteran tells a joke.
16:30
More interior shots of war/military-related artworks, arms, clothing and models on display. Rousing, marching music in accompaniament.
17:35
A veteran tells the camera his age, how long he's been in the home and some of the simple tasks he does.
18:05
Incomplete scene of veterans working in a workshop.
[End]
End of shotlist
Collection
Collection of Peter Davis Stills, Films, and related items in the archive.