Johnny Cash: The Man, His World, His Music
primary_youtube_id: 60u_qTG6Ee8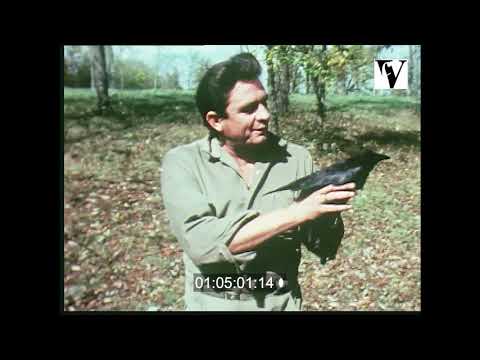 1970
1:27:41
This 90 minute documentary by Robert Elfstrom contains many rare clips, including the Man in Black singing classic duets with his wife June Carter, Carl Perkins, and Bob Dylan.
Physical formats available:
Digital formats available:
This rare look at the iconic Johnny Cash was shot mainly on tour in the late 60's Includes 21 song performances in many different settings, plus unique footage of Cash relaxing and visiting with friends and family. Footage includes Cash with maximum-security prisoners, and feather-clad Native American dignitaries, and behind the scenes playing cards on the tour bus, jamming with friends, and further reinforcing his then-unfashionable interest in Native American issues with a visit to the site of the Wounded Knee massacre. Also of interest are the other performers that wander through this random travelogue: Cash's wife, June Carter Cash, in a duet with him on "Jackson"; Cash's lead guitarist, Carl Perkins, taking the spotlight to sing his creation "Blue Suede Shoes"; and also a great performance of Cash recording a glorious duet of Billy Edd Wheeler's "Blistered" with Bob Dylan.
01:10
B-roll of Cash on stage with band performing "Ring Of Fire". Credits.
03:23
EXT rear FS of Cash crouching in a wood using an instrument to make bird noises. Rear FS of Cash walking through wood with shotgun.
03:43
Sound of gunshot, Cash picks up an injured crow and continues to walk through wood talking to the bird as it tries to peck at his hand.
05:58
FS to MS of Cash seated by a lake, singing ad lib to the bird. ZI to CU. Crow pecks at Cash.
07:06
MS of Cash in studio and crew. Cash giving instruction. ZI to Cash as song plays back.
08:43
B-roll of RV on road, rural shots from vehicle perspective. INT shots of RV.
09:23
MS of Cash surveying a small map with band from inside RV. Points out his and his father's place of birth. Profile shot of Carl Perkins talking.
10:46
B-roll of RV on road, Cash and June Carter Cash laughing and smiling, band members reclining.
11:44
B-roll of bus and outdoor crowd. Bob Wooton and Carl Perkins talking together. Crew setting up. ZI to CU of Bob Wooton and Cash picking up guitar.
12:23
Cash getting up on stage to introduce himself. ZI to CU as Cash and band perform "Folsom". MS of band.
14:44
CU of Cash to ZO of him talking about the themes of country music.
15:31
Cash shaking apples from a tree with a stick. Cash jokes with people and prods a mule. Mid shot of Cash with large stick.
16:41
CU shot of Cash's father Ray Cash. INT family scene with his mother Carrie Cash, Ray Cash, June Carter Cash and other family members. Cash prompts his father to sing.
18:58
FS of Cash on stage performing "How High Is The Water Mamma". ZI.
20:40
MS of June Carter Cash playing autoharp and singing "Foggy Mountain Top" on stage with The Carter Sisters. Maybelle Carter in shot.
21:34
MS Carl Perkins performing "Blue Suede Shoes".
23:13
CU profile shot of Cash performing Donovan's "Remember The Alamo". ZO.
24:42
MS of Cash signing autographs and taking pictures with fans. An elderly female fan sings to Cash.
25:43
MS of Cash with Buzz Martin in a dressing room, adjusting strings on a guitar. Wooton sings, June Carter Cash in shot, smiling and laughing. ZI to Cash smiling and laughing. CU of fan asking Cash to attend his show. Two fans ask Cash to perform a song for them, Bob Wooton briefly in shot. Cash sings "Great Speckled Bird" (audio) as they watch.
29:40
CU to ZO of Cash, seated with guitar, singing the remainder of "Great Speckled Bird". Pan to June Carter Cash asking the meaning of the song to which Cash replies. Cash goes on to sing an early version of "Flesh And Blood". Camera pans to a smiling Carter Cash and back to Cash, singing.
33:33
MS of Cash and Carter Cash on stage, performing "Jackson" together. B-roll of roads, RV and filling stations.
34:55
Profile shot of Cash in RV driver's seat, talking about his past — particularly his family's time in Dyess, Arkansas. Shot of Cash's sister, Louise Cash, in the rear cabin.
36:54
Carter Cash, MS from passenger seat, speaks metaphorically. MS of Cash from driver's seat talking about his teenage years and listening to the country music shows on the radio. MS of Louise Cash talking about Cash from the rear.
37:11
FS of stage at the second Country Music Association Awards, Cash can be seen in audience. HA shot of hosts, Roy Rogers and Dale Evans, who address the crowd then sing. ZI.
38:40
HA shot of Cash in audience, applauding, as nominees are announced. MS of Evans reading names of nominees. HA shot of Glenn Campbell in audience.
39:17
Evans announces Cash as the winner, Cash takes to the stage and accepts award with a speech.
40:03
FS of people seated in dressing room. Cash shaking hands. Young fan performs for Cash on guitar and harmonica. Cash turns and signals people to be quiet. ZI to Cash listening and watching attentively. Cash, seated, suggests the boy gets "an audition with Columbia records."
45:36
MS of Cash with harmonica and performing "Orange Blossom Special". ZI to CU shots.
48:15
WS of Cash seated by a large window playing guitar and singing "Blistered". Slow ZI.
49:01
CU of Bob Dylan and MS of Cash in studio. ZO to MS of them both performing "One Too Many Mornings". B-roll of Cash and Dylan together in studio — Cash smiling and laughing.
52:20
CU Cash performing "The Ballad of Ira Hayes" to a Native American audience.
55:04
CU of Native American man addressing the crowd, acknowledging Cash with prayer and blessing.
55:20
CU of Cash with Native American man. Audio of blessing.
55:42
CU of Cash talking about his experience of his show to the Native American audience. Talks about the "medicine man" and inspiration for songwriting.
56:15
Cash at the site and mass grave of those killed in the Wounded Knee Massacre in South Daktota. Cash talking to a relative of one of the dead. Audio of Cash's "Big Foot".
58:07
INT MS of Cash seated with guitar singing "Big Foot". ZI. B-roll of Cash with relatives of massacre at mass grave.
01:00:00
CU to MS of Cash performing "Were You There (When They Crucified My Lord)".
01:01:35
OTS of Cash driving RV talking about "sharecropper houses" as they pass the bungalows. Carter Cash in shot.
01:02:39
View through windscreen as Cash talks about "Ditch 40", a drainage ditch that his father worked on. View of the theatre at Dyess, Cash talking about some of the town's landmarks when he lived there. CU profile shot of Cash.
01:03:43
Cash pulls into a gas station to speak with owner, Frank Huff, and others.
01:03:43
B-roll of store exterior, man, dog, truck with hay bales. INT shot. B-roll CU shot of man drinking a bottle of coke with audio of Cash's "Cisco Clifton's Fillin' Station". Shots of workers and exterior of filling station.
01:07:07
FS of Cash and Louise Cash approaching the home of an old family friend. EXT MS of greeting, Carter Cash in shot.
01:08:18
WS Cash approaching family home (derelict) with Carter Cash. INT shots, Cash reminisces with Loiuse.
01:10:08
B-roll of derelict home, Cash picking plants to audio of Cash's "Busted".
01:11:15
CU to MS of Cash being interviewed. He talks about his upbringing influencing his music and his "At Folsom Prison" album. FS of studio.
01:12:25
B-roll EXT prison shots, prisoners. Audio of Cash's "The Walls of a Prison".
01:13:20
B-roll INT shot of prison cell. CU of inmate. Shots of prison corridor.
01:14:37
B-roll of Cash and Carter Cash walking through prison grounds.
01:15:40
CU to WS shot of prison audience. The Carter Sisters enter stage and Carter Cash introduces and jokes with audience. Maybelle Carter, Anita and Helen Carter in shot. Marshall Grant also in shot. The band perform "The Last Thing on My Mind".
01:18:50
Carter Cash introduces Johnny Cash to the stage. Cash performs "Big River". CU shots of audience.
01:20:32
OTS shot of Cash introducing band. Camera pans to Marshall Grant and W. S. Holland each taking a bow. Cash then introduces Bob Wootton. CU of inmate's tattooed arms.
01:21:08
Profile MS of Cash joking on stage. Cash performs "Long Black Veil". CU shots of audience inc. prison guard. Carter Cash joins Cash to perform "Jackson".
01:25:36
CU of Cash in studio singing "Devil To Pay". ZO to MS of Carl Perkins joining in duet. ZI to CU of Perkins and pan to CU of Cash.
[End]
End of shotlist