Chicago 68 - America Against Itself
primary_youtube_id: 1zqSLD2lfOs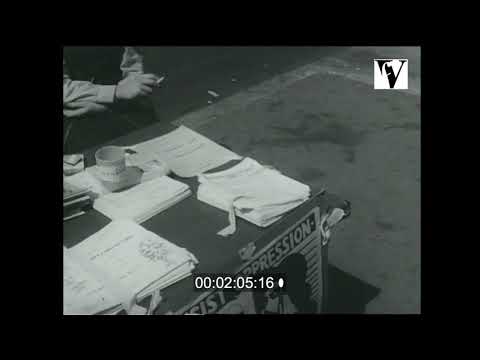 1968
0:44:11
In August, 1968, as the Democratic Convention assembled in Chicago, groups opposed to the war in Vietnam converged on the city. Their aim was to put pressure on the Democratic Party to seek an end to the war. They were to hold public demonstrations in order, but they were beaten down by what became known as a "Police Riot".
Physical formats available:
Digital formats available:
1968 was the year of political upheaval. Behind the Iron Curtain, there was the Prague Spring, in Paris, there was le joli mai. In the United States, Martin Luther King was murdered, followed by Robert Kennedy. The Youth International Party ­the Yippies ­under Abbie Hoffman and Jerry Rubin flexed their muscles in campuses and on the streets - and then in August there came the Democratic National Convention in Chicago.
What remained of an American Left united with an amorphous disaffected youth to protest a Democratic Party that seemed loath to address the real malaises of America, racism, poverty, and the unending war in Vietnam. In Chicago, it began with marching and chanting, and ended with blood on the grass and gas in the streets.
Director:
Bill Jersey (Quest Productions)
00:00
Title sequence. Various shots of demonstration with police presence. Dialogue and interviews with demonstrators who have been arrested and charged.
04:09
Scenes with delegates, Alex Rosenberg and Allard Lowenstein, who also detail their experiences into the camera.
07:15
A Black woman talks to the camera about her experience of police brutality, racism and her arrest at the convention. Images of police engaging with demonstrators.
09:05
A Black reporter and a local minister talk about police brutality.
10:17
Comments in support and opposition of the events, including words from columnist Jack Mabley and activist Rennie Davis.
13:05
Allen Ginsberg talks.
13:46
Anti-war activist Tom Hayden talks over scenes of the Yippies in Lincoln Park, and in front of the camera.
14:42
More violent images of the police clearing and gassing demonstrators at the park. People talking about widespread police brutality at the scene.
16:29
Rennie Davis talks.
16:50
Jay Miller of ACLU talks. A minister talks to the camera about scenes of police brutality.
18:05
Allard Lowenstein talks.
18:53
McCarthy aide George Yumich talks.
19:28
McCarthy speechwriter Paul Gorman talks.
20:41
Richard J. Daley addresses an assembly.
21:53
Dick Gregory talks to the camera, criticising Richard J. Daley.
22:19
Frank Sullivan, former press secretary to Mayor Richard J. Daley, talks at a press conference.
23:10
Images of the National Guard at the demonstration.
24:12
Walter Cronkite describes a significant, symbolic scene to the camera; a woman, in a car, approaching a line of National Guards with demonstrators in rear of car. The occupants are then intimidated by a National Guard who points a grenade launcher at them through the window, as a crowd assembles at the scene.
27:30
Richard J. Daley appears on a CBS new report, talking about intelligence on a plot to assassinate him and presidential candidates during the convention. Jay Miller of ACLU then refutes these claims.
29:07
Images of CBS News journalist Dan Rather being manhandled by security.
29:44
Frank Sullivan denies any police attacks on press people. Labour Party MP Anna Kerr talks about her arrest at the demonstration over images of her brutal experience.
32:37
Images of lines of police approaching and hitting demonstrators with nightsticks.
33:12
Governor Abraham Ribicoff addresses a conference with his "gestapo tactics" speech. Image of Richard J. Daley heckling.
33:42
Scenes of demonstrators, medical units, police lines and National Guard gassing the crowds.
36:25
Roll call at the convention, Wisconsin chairman calls for adjournment.
38:00
Disturbing images of police detaining demonstrators by force and accounts of indiscriminate brutality at the hands of the police.
40:39
Dick Gregory talks.
[End]
End of shotlist