Dialectics Of Liberation - Carolee Schneemann And Poetry Session - Out Takes
primary_youtube_id: Shau9I2EJwY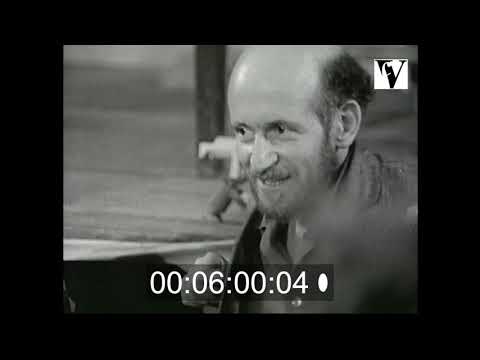 1967
0:33:50
The meeting in London of the Symposium on the Dialectics of Liberation and the Demystification of Violence, organized by R.D.Laing, with Allen Ginsberg, Paul Sweezey, Paul Goodman, Herbert Marcuse, Stokely Carmichael, Obi Egbuna. Includes footage of actor Julian Beck, Gustav Metzger, David Cooper, poet Jerome Rothenberg and photographer, John Haynes.
Physical formats available:
Digital formats available:
00:03
Title card: Poetry & Resistance Dialectics 1967 with Susan Sherman, Carolee Schneemann, Gustav Metzger.
00:09
Poetry circle. Camera ZI to woman reciting followed by a round of applause. CU of man reciting.
01:35
CU of woman reciting a poem by García Lorca and playing a balalaika.
03:53
David Cooper in circle with Gustav Metzger and Carolee Schneeman. ZI to profile of audience member talking about African folk music.
06:27
Shots of Schneeman, Sherman and Cooper in discussion. A question from young professor of philosophy Roger Gotleib for Schneeman; camera cuts before her answer to Cooper discussing the "essence of madness".
07:34
CU of Schneeman speaking. Slow ZO to shot of both Schneeman and Metzger. Peter Davis signals "cut".
09:30
CU of audience discussing/questioning.
10:52
CU of Metzger and Sherman speaking in turn.
16:28
Pan to Schneeman speaking.
17:08
Pan to American poet Jerome Rothenberg and Sherman respond to Schneeman.
18:01
Pan to Schneeman responding to Jerome Rothenberg and Sherman.
18:23
Pan to CU of audience members and back to ZI of Sherman continuing to speak. Camera ZO to WS shot. Alt. angle of same scene with Cooper, Schneeman and Metzger in view.
19:06
[no audio] CU of audience members. ZO to WS of Rothenberg and Sherman.
20:14
[no audio] CU of photographer John Haynes.
20:34
[no audio] CU of audience members and Metzger listening attentively.
21:54
Title card: Carolee Schneemann Event.
22:00
[no audio] Performance of Round House by Schneeman involving WS ZI/ZO and CU shots of performers.
27:05
Title card: Julian Beck Living Theare.
27:07
Beck soundchecks in front of stage curtain. CU and WS shots of him discussing with crew members and sitting amongst audience.
29:22
Beck talks to a seated audience. ZI and CU shots of both him and the audience.
[End]
End of shotlist