Poetry in Motion: 100 Years of Zanzibar's Nadi Ikhwan Safa
primary_youtube_id: U_BbKmfifvI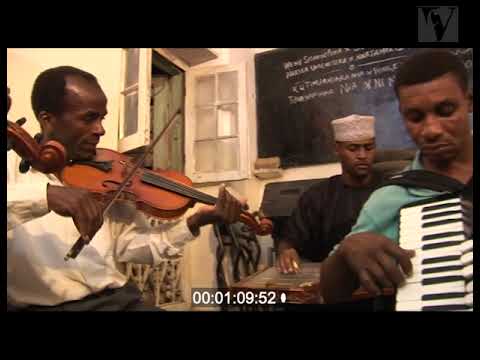 2005
01:10:00
A feature-length documentary film exploring the music, poetry, history and personalities of an esteemed East African orchestra.
Digital formats available:
Performers of sung Swahili poetry called taarab, Nadi Ikwan Safaa ('The True Brotherhood Club') of Zanzibar, Tanzania celebrated its 100th anniversary in July 2005, making it one of the oldest orchestras in the world today.
Situated at the nexus of Indian Ocean trade, Zanzibar developed during the 19th century into a thriving cosmopolitan trading center. Colonizers, slaves and migrants came to the island contributing their musical and cultural traits to local Swahili communities. Born of this cultural diversity, Swahili taarab poetry became a vehicle utilized by elites and commoners alike to articulate social grievances and reinforce social mores. The musical sounds of taarab, which originate in traditional music of Africa, Arabia, and South Asia, were refined and blended in small ensembles. Then inspired by Egyptian film orchestras of the 1950s they developed into an orchestral performance sound far-reaching in its popularity. African orchestral music is largely unknown, falling, as it does, outside popular perceptions of African music as limited to drumming.
Originating as a male social club, Nadi Ikwan Safaa has since grown to encompass male and female members from all sectors of Zanzibar's diverse population. Poetry in Motion offers a music and poetry-driven narrative of a musical group that has survived colonialism and violent revolution, yet always managed to celebrate life's joys and challenges.
Producer:
Werner Graebner
Collection
Formed in 1994, Gris-Gris Films is an independent production company dedicated to producing films whose subject matter and message tap the highest aspiration of the creative impulse.