Shadowplay
License me
primary_youtube_id: VZ0VBXWwS-w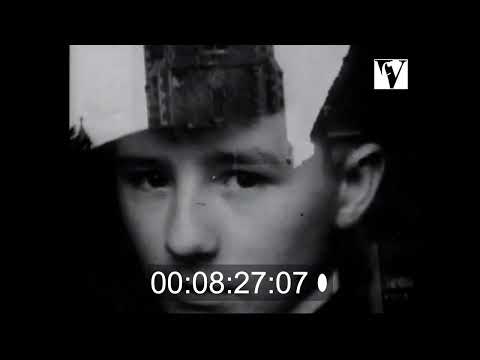 1959
0:11:26
Short, dramatic film that tells a macabre tale of two young pupils who daydream to escape the austerity of their educational institution and defy their teacher's "brute authority."
00:15
Opening credits and title sequence with outside views of grammar school, gardens and pupils entering the grounds.
01:28
Shots of two main characters approaching main building.
02:25
Interior shots of pupils gathering.
03:11
Pupils singing in an assembly; main character distracted.
03:42
Cuts to classroom and teacher disciplining child, whose insubordinate fantasies flash into view.
04:31
Pupils singing in an assembly.
04:43
Camera cuts to one of the characters, in shadow, in the grounds. Makes a pact/discusses a plan with another main character.
05:47
Another shot of assmembly with camera focusing on the two main characters.
07:18
Camera pans pupils in makeshift, ceremonial robes.
07:52
Outside shots of pupils descending exterior staircase.
08:28
Fades to exterior ritual sequence; robed figures walk through a cemetery, carrying a draped coffin to a burial plot.
10:38
School interior. Pupils rise as a teacher enters the room.
11:18
The End intertitle card.
[End]
End of shotlist
Collection
Collection of Peter Davis Stills, Films, and related items in the archive.